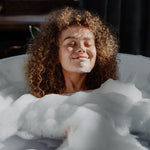 Adaptability and resilience are particularly important when it comes to coping well with personal and global crises. Falling is okay; that happens to us all several times in our lives. After falling we get up again. But of course we need physical and mental strength for that. Should we get this strength completely from ourselves or should we use a helping hand? Nature gives us the answer.
THE SCIENCE OF LIFE
Ayurveda is also called 'the science of life'. This ancient Indian medicine is entirely based on living in harmony with nature. Nature as our living environment is important here, but of course also our own human nature. We are part of the big picture, after all.
Ayurveda has been looking at balancing all elements of human nature for thousands of years. The interaction between mind and body is paramount: an interaction that, strangely enough, is often overlooked by mainstream medicine. But the ancient Romans already knew that a healthy mind and a healthy body nourish and complement each other. Here comes the familiar phrase Mens sana in corpore sano away from.
THE SEARCH FOR BALANCE
Sometimes life seems unfair. Some people have to toil hard, while others have everything thrown into their lap - the privileged. However, in a global crisis, such as the corona crisis, we all have to pause.
Only then do we see that the toilers who previously experienced a crisis can deal with the limiting circumstances much more flexibly and creatively than these privileged ones. In this way a balance has nevertheless been established.
SUPPORT FROM NATURE
Nature's pantry is inexhaustible. You just have to know which drawers you have to open. Take a look at, for example ashwagandha - a plant from the nightshade family very popular in naturopathic traditions. The roots of the ashwagandha contain many active ingredients, which are similar to those of the ginseng root. That is why ashwagandha is also called the 'Indian ginseng'. The beneficial properties attributed to the plant are both soothing and invigorating for the entire organism, so for the body as well as for the mind.
According to ancient Ayurvedic tradition, the ashwagandha has many more positive effects, including:
anti-aging

stimulating recovery from illness

improving fitness (perfect for sports performance!)

combating stress complaints

improving fertility and sex drive in men
USING ASHWAGANDHA
Ashwagandha is very well concentrated to use in tablet or capsule form. Please note that they are natural supplements with a high content of biological ingredients. Our ashwagandha meets all these requirements.
Give yourself a helping hand in times of stress, illness or fatigue. Order now or ask the Vitamin Man for judicious advice.