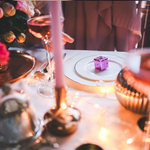 For some people it is the best time of the year. Other people struggle during the December days. They are not happy with the imposed glee. Triple hustle and bustle. Or loneliness and a gnawing feeling of lack. How do you still get in a bit of a festive mood?
MOOD AND HUMOUR
Mood and humour are almost synonymous. However, a mood is more fleeting than humour. A mood can change quickly, while a good or bad humuor often with character is associated. A bad humour is a disaster for colleagues and family members. They suffer from complaining, angry outbursts and passive aggressive behavior. Occasionally such a person may be in a good mood, but the basic attitude is bad humour. Not very nice when you have to sit underneath the Christmas tree with someone like that.
THIS IS WHAT YOU NEED
People with a tidy character are not easily put off. Christmas and New Year's Eve are one big party for them, with perhaps a small problem every now and then. But even they occasionally need energy to stay cheerful.
When you're more worried, you'll see bears in your path where they may not be at all. When you think about the holidays, you immediately worry about new clothes for the children, that annoying uncle, the compulsory school dinner, the Christmas drink, the obligatory gifts, that you have to clean the whole house, etc. etc.
IMPROVE YOUR MOOD
Improve your mood by improving your basic posture. You don't solve any problem by feeling bad. You can still benefit from a positive decision to feel better after the holidays. That's how you do that:
THINK POSITIVE
Positive thinking does not mean ignoring negative events. They are also part of life. Thinking positively means that your thoughts are helping you instead of working against you. When you make a list every day of at least three things you are grateful for, you train your mind to produce increasingly positive thoughts.
Do you dread the well-known family dinners and obligations? Try to put all your negative thoughts aside and step inside cheerfully and positively. Ignore weird comments that would otherwise annoy you and don't respond to them. You will see that other topics will soon pass in review and the evening could be better than expected!
A HEALTHY ENVIRONMENT
A healthy environment gives you positive energy. Connect with a piece of nature in your area. A brisk walk in the woods or a breath of fresh air on the beach, for example.
Provide enough light in these dark days. Go outside as much as possible or buy a daylight lamp. Use it as an alarm clock or to recharge during the day.
TAKE CARE OF YOUR BODY
Your body wants to move. That's what it's made for. Walk around, ride a bike or go dancing at the Christmas party. And do you eat or drink too much at Christmas? Who not? That's part of it. Forgive yourself for this.
To get in the right mood you need calmness and self-confidence. There are supplements with L-theanine, the active substance matcha, for extra focus, energy and tranquility. This will help you get through the holidays in a good humour. Curious about the possibilities? Our natural mood enhancers based on plants, herbs, vitamins and minerals are safe and easy to take. It makes you feel good and wonderfully relaxed. Ideal to get into the festive mood and get through the Christmas season.